The Contest:
We've had over ten chapters now.&nbsp If there was something I could do for a celebration...well, how's this.&nbsp You send in something, story or art, to celebrate our 10th chapter (and almost 5 months of existence!) and we'll post all of 'em up, and you can vote on them (democracy at work!) and the winners will get a prize from us.&nbsp Exciting, huh.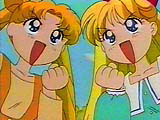 The Breakdown:
There are, of course, methods to this madness.&nbsp Anything submitted for the contest must have something specifically to do with the story.&nbsp You can submit other stuff, but it would go to the general fan art section.&nbsp Just informing you.
Art.&nbsp Fan art.&nbsp Specifically, Chaos in Time oriented fan art.&nbsp Submit your visions of the characters in the situations described. Don't know how to send art to me? Check here!
Stories.&nbsp These would be side stories to Chaos in Time... if you want a place just to publish your fan fiction, there are other sites for you to go.&nbsp That being said, stories must be short and enclosed... no long epics.&nbsp As always, any submission must adhere to the site rules.&nbsp Don't fear, this does allow some latitude... anything you feel has been overlooked in the chapters so far can be fodder for your story.&nbsp However, if the submission is on something new, it will be considered for the next chapter.&nbsp I've wondered about this, as it seems like it could be a bad idea.&nbsp I'm trusting that you can follow the directions...
Well, now the ball is in your court. Send in submissions until March 2.&nbsp That gives you a month... don't waste it!&nbsp Good luck, and I look forward to seeing your submissions! :)