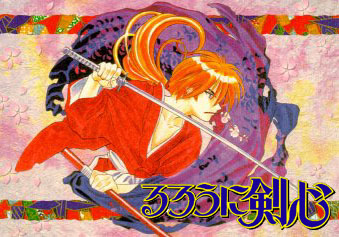 Rurouni Kenshin
Rurouni Kenshin (I)(B Nobuhiro Watsuki / Shueisha $BI(BFuji-TV $BI(BSony Pictures (Japan)
overview
Himura Kenshin is your basic late 19th century Japanese man adjusting to the new Meiji era of equality. Except that in the previous Edo dynasty, he was the Hitokiri Battousai, and assassin so skilled he could kill you before you even knew you were dead. Now, sworn not to kill, Kenshin attempts to re-enter society... but can he ever escape his bloody past?

He certainly intends to try. With the help of new friends, the beautiful and strong Kamiya Kaoru, spunky junior samurai Myoujin Yahiko, and self-proclaimed bad-ass Sagara Sanosuke, Kenshin works towards a normal life. In the tumultous period of change in the mid-1800s, Kenshin defends truth and honor, wielding a sakaba sword. Now if only all those acquaintances of people he killed back as a Hitokiri would quit turning up...

five links

$BI(BThe Rurouni Kenshin Archive: A great comprehensive site. There's a little of everything here.
$BI(BProject Oro: Another good site. If you're looking for goodies, here's the place to go.
$BI(BThe Kenshin Gallery: One of, if not the largest collection of RK images. A bunch of other cool stuff too.
$BI(BMaigo-chan's Kenshin Translations. Are you unable to get the anime, or can't read Japanese? Here are detailed translations of the manga, for your reading pleasure.
$BI(BHiten Mitsurugi Ryuu-- Rurouni Kenshin fan fiction archive. More Kenshin fics than you can shake a stick at.
index &nbsp stories &nbsp sailormoon &nbsp series info &nbsp talk