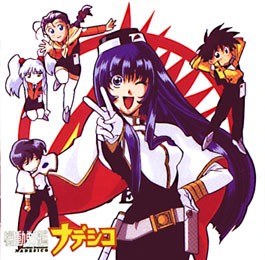 Martian Successor Nadesico
Martian Successor Nadesico © Kia Asamiya / XEBEC / Nadesico Project / TV Tokyo.
overview
Tenkawa Akito has it good. He's a valued crew member and mecha pilot of the new galactic warship Nadesico. Inspired by his favorite anime, Gekiganger III, he fights for the safety of the Earth from the mysterious invaders, the Jovian Lizards. There's only a few problems... Akito hates close combat. And, what if the Jovians aren't aliens, but humans like himself? Plus, on a more earthy level, the female crew of the ship can't seem to resist him (much to his dismay). Can he survive the dueling affections of Captain Misumaru Yurika and most every other girl on the ship? And what about Joe?

And all he wanted was to be a cook.

five sites
Here's five great Nadesico websites. Consider these the 'not to be missed'.

• The Nadesico Homepage: A nice comprehensive site.
• Genesis: Nadeisco: Information, a nice image gallery, and links to merchandise you can buy.
• Kara's Nadesico Info and Scans-- Just what it says. Not much of an info site, but lots of nice scans from TV and artbook.
• Akito Akito Akito!! Nadesico site. A little bit of everything. Includes the 'You Know You've Watched Too Much Nadesico When...' list
• Ruri Hoshino's World-- A shrine to Hoshino Ruri, a fan fave of Nadesico. Some general information on the series, and scans.
index &nbsp stories &nbsp sailormoon &nbsp series info &nbsp talk